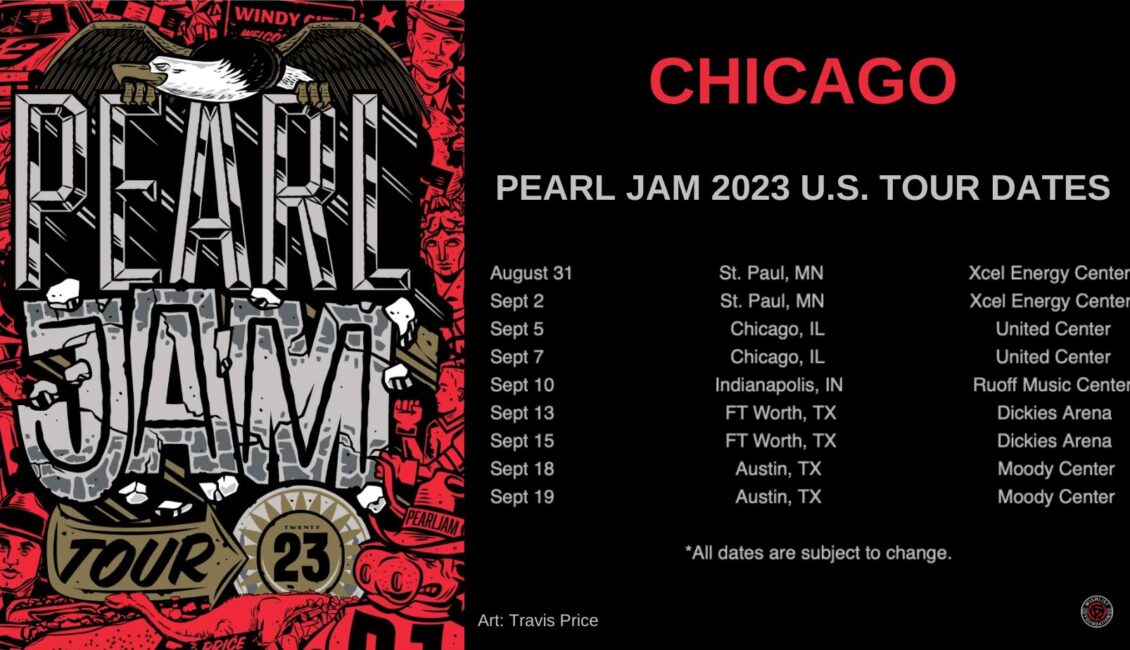 Pearl Jam Fan-Run Preparty Fundraiser & Festivities
hosted by Wishlist Foundation – a Pearl Jam Fan-Run 501(c)3 Nonprofit Organization
TUESDAY, SEPTEMBER 5 & THURSDAY, SEPTEMBER 7
Walden Chicago
West Town – 2145 W. Walnut St.
Chicago, IL 60612
(312) 248-3818
https://waldenchicago.com/
MONDAY, SEPTEMBER 4 – HAPPY HOUR & PEARL JAM TRIVIA
4-6PM: Happy Hour
6-9PM: Pearl Jam Trivia – win prizes!
Kuma's Corner West Loop
852 W. Fulton Market, Chicago IL 60607
312-666-9090
https://kumascorner.com/west-loop/
https://www.facebook.com/KumasCornerWestLoop/
https://www.instagram.com/kumascornerwestloop/
https://twitter.com/KumasWestLoop
TUESDAY, SEPTEMBER 5 & THURSDAY, SEPTEMBER 7
PEARL JAM PREPARTY FUNDRAISERS
TIME: 2-7PM
Walden Chicago
West Town – 2145 W. Walnut St.
Chicago, IL 60612
(312) 248-3818
https://waldenchicago.com/
https://www.facebook.com/waldenchicago/
https://www.instagram.com/waldenchicago/
600+ capacity
Food Provided by
Big Star & Reggie's Rock Club
About Big Star
An homage to the honky-tonk bars found through out Bakersfield, California, Big Star is Chicago's bourbon and beer-focused, taco-slinging, honky-tonk hangout. Offering new takes on authentic Mexican street food by Executive Chef-Partner Paul Kahan and Culinary Director Chris Miller, house staples include al Pastor, Baja, and Panza tacos using house-made tortillas, along with vegan and vegetarian options such as the Tostada de Hongos.
3640 N Clark St., Chicago, IL
773-857-7120
https://www.bigstarchicago.com/
https://bit.ly/2023BigStarFoodTruckMenu
http://instagram.com/bigstarchicago
Reggie's Rock Club
REGGIES brings a music fan's ultimate dream to reality with a terrific bar and grill, kickin' rock club, comedy shack– all under one roof!
2105 South State St., Chicago, IL
312-949-0120
https://www.reggieslive.com/menu/
https://www.facebook.com/ReggiesRockClub
https://instagram.com/reggieslive/
TICKETS
Free!
$10 suggested donation
RSVP here:
(Register for your free tickets & receive 3 free raffle tickets when you SCAN your ticket at the preparty!)
BENEFICIARIES
• Pearl Jam's Vitalogy Foundation
• Connections for the Homeless
ABOUT VITALOGY FOUNDATION
Vitalogy Foundation is a 501c3 organization founded by Pearl Jam to translate the ethos of their music into tangible positive impacts.
To maximize its effect, Vitalogy works as both an advocate and a donor. As a donor, Vitalogy identifies and financially support organizations inline with its mission. As an advocate, Vitalogy educates on critical issues and organizations.
Vitalogy elevates the voices of overlooked groups and seeks opportunities to support approaches that value people's minds, bodies, and souls. In the band's collective work, the Foundation focuses on three main areas: the environment, homelessness and indigenous causes.
The members of Pearl Jam are busy supporting Vitalogy grantees and advocating for social justice. Stay current with the band's updates here: https://pearljam.com/vitalogy/news
Learn about each band member's spotlight causes here:
https://pearljam.com/vitalogy/band
https://pearljam.com/vitalogy
https://pearljam.com/vitalogy/get-involved
ABOUT CONNECTIONS FOR THE HOMELESS
Connections for the Homeless partners with the community to provide comprehensive, compassionate, well-resourced & effective initiatives through eviction prevention, shelter, and housing programs.
Driven by their core values, they prevent homelessness through financial assistance to households facing eviction, provide emergency shelter for people in crisis, secure permanent housing for individuals and families, and organize our community through advocacy efforts.
They build supportive relationships with their participants that make it possible for them to prevent and end homelessness, one person at a time.
Connections for the Homeless
2121 Dewey Avenue
​Evanston, Illinois 60201-3057
847.475.7070
https://www.connect2home.org/
https://facebook.com/connect2home
https://www.instagram.com/connections4homeless/
https://twitter.com/@connect2home
SPECIAL GUESTS
• Justin Hampton, Artist
• TBA
Justin Hampton will have posters, merch and a preview of his new book, "Visual Feast." He will be available for photos and signing and will present an exclusive exhibit.
ABOUT JUSTIN HAMPTON
Justin Hampton has been creating powerful and resonant artwork since 1990. He got his start in Seattle as a freelance illustrator under the art direction of graphic designer Art Chantry at The Rocket; a monthly music magazine that was ground zero during the Grunge era. Three decades later he is renowned as one of the most recognizable contemporary rock poster artists and has garnered international attention. His bold line work and sublime color palette mixed with a vivid imagination are unmistakable. His work can be seen in galleries, clubs and homes around the globe. Hampton's work has been published a multitude of books including the definitive tome of the gig poster genre; The Art of Modern Rock. Justin was also prominently highlighted in the documentary movie 'American Artifact, the rise of American rock poster art.' The film is in the permanent collection of The Rock and Roll Hall of Fame in Cleveland. Hampton's collaborative poster for the movie with his cohorts in Post Neo Explosionism (or PNE) was also added to the museum's archives. Seattle's Museum of Pop Culture (MoPOP) has archived countless numbers of his prints and originals for their permanent museum collection as well.
https://justinhampton.com/
https://justinhampton.com/collections
https://www.facebook.com/profile.php?id=100063440726488
https://www.instagram.com/hamptonia
https://twitter.com/jhamptonia
WISHLIST VOLUNTEER STAFF
Producers: Jenny Wallack Schenk, Jon Marshall Voorheis, Laura Trafton
Organizers: Elle Ullum
Volunteers: Sign up now! https://bit.ly/23pjvolunteer
Photographer: Volunteers needed! https://bit.ly/23pjvolunteer
Videographer: Volunteer needed! https://bit.ly/23pjvolunteer
SCRAPBOOK
TBA
AUCTION
Pearl Jam Poster Autographed by the band
RAFFLE
Donate Now: https://bit.ly/pjdonation