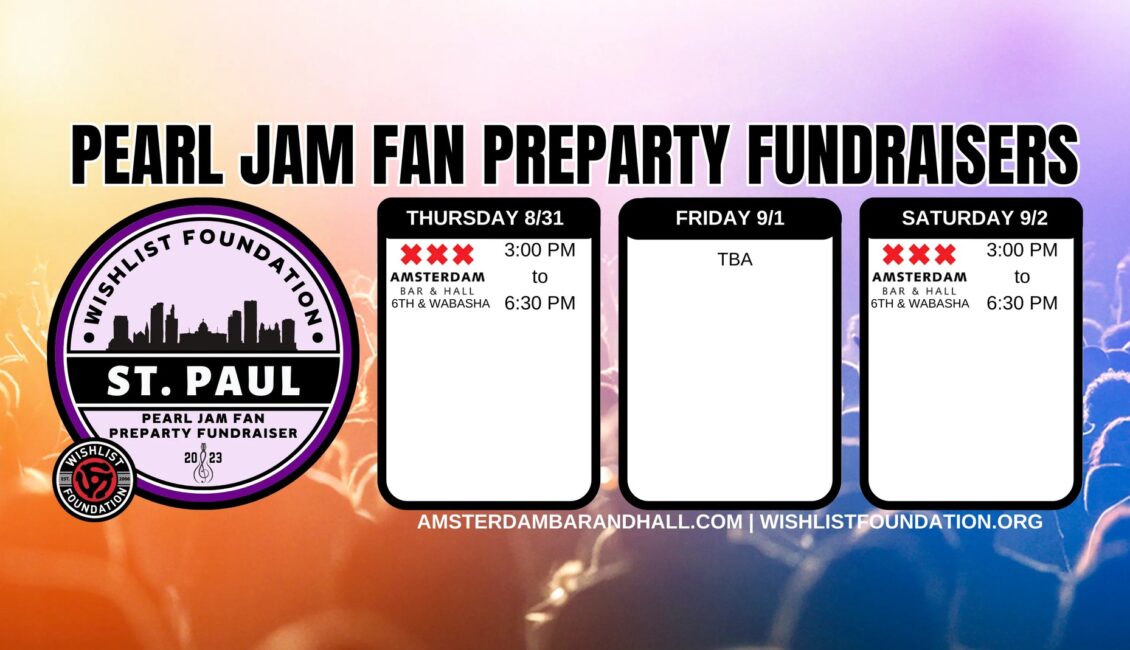 Pearl Jam Fan-Run Preparty Fundraiser
hosted by Wishlist Foundation – a Pearl Jam Fan-Run 501(c)3 Nonprofit Organization
THIURSDAY, AUGUST 31 & SATURDAY SEPTEMBER 2:
PEARL JAM PREPARTY FUNDRAISERS
TIME: 3-6:30PM
Amsterdam Bar and Hall
6th & Wabasha
Saint Paul, MN 55102
https://www.amsterdambarandhall.com/
https://www.facebook.com/pages/Amsterdam-Bar-and-Hall/224729617567308
https://twitter.com/amsterdambar651
https://www.instagram.com/amsterdambar651
Map, Directions & Parking
2 minute drive / 8 minute walk to Xcel Center
https://www.amsterdambarandhall.com/location/
The Amsterdam Bar and Hall is Saint Paul's premier and most versatile music venue, bar/restaurant and event space and sister bar to the 331club in Northeast. Like the 331 was at the forefront of the arts boom in NE Minneapolis, they are bringing that energy to downtown St. Paul.
ALL AGES
500+ capacity
Happy Hour: Thursday, 3-6PM
50% tap beers, rail drinks & wine
*exclusions apply
TICKETS
Free!
$10 suggested donation
RSVP here:
(Register for your free tickets & receive 3 free raffle tickets when you SCAN your ticket at the preparty!)
FRIDAY, SEPTEMBER 1 – FRIDAY NIGHT FUN W/WAYSIDE
TIME: 7-10PM
Amsterdam Bar and Hall
6th & Wabasha
Saint Paul, MN 55102
$10 in advance – https://link.dice.fm/Sc94c0edd199
$12 at the door
AGES 18+
Wayside will be donating 40% of their proceeds from the door charge to Wishlist Foundation! Wayside will be doing an HOUR of Pearl Jam songs!
ABOUT WAYSIDE
Formed in 1999, Wayside is an original rock band from Minneapolis Minnesota that launched on to the scene in the early 2000s. Fundamentally a band of brothers who have known each other for 20+ years, the music and live show is a loose, energetic display of the love of music and playing it live.
Wayside's music reflects classic 90's and 2000 alt rock, with a physical and energetic live show. This gained them a coveted slot on the 2002 Van's Warped Tour and they subsequently played at most of the major venues in Minneapolis and St. Paul.
They went on hiatus in 2005, and although they have played several reunion shows since, they are relaunching with an all new slate of original music that reflect their early influences and the road that has been traveled over the past 15 years.
BENEFICIARIES
• Pearl Jam's Vitalogy Foundation
• Hope in Grace
ABOUT VITALOGY FOUNDATION
Vitalogy Foundation is a 501c3 organization founded by Pearl Jam to translate the ethos of their music into tangible positive impacts.
To maximize its effect, Vitalogy works as both an advocate and a donor. As a donor, Vitalogy identifies and financially support organizations inline with its mission. As an advocate, Vitalogy educates on critical issues and organizations.
Vitalogy elevates the voices of overlooked groups and seeks opportunities to support approaches that value people's minds, bodies, and souls. In the band's collective work, the Foundation focuses on three main areas: the environment, homelessness and indigenous causes.
The members of Pearl Jam are busy supporting Vitalogy grantees and advocating for social justice. Stay current with the band's updates here: https://pearljam.com/vitalogy/news
Learn about each band member's spotlight causes here:
https://pearljam.com/vitalogy/band
https://pearljam.com/vitalogy
https://pearljam.com/vitalogy/get-involved
ABOUT HOPE IN GRACE
Hope in Grace is a nonprofit organization founded by preparty organizer Tony Doffin and his wife Jaclyn, after the passing of their beloved daughter Grace. Hope in Grace supports pediatric cardiology research at the University of Minnesota by funding the Grace Doffin Pediatric Heart Research Fund, an endowment fund through the University of Minnesota Foundation. They help promote and reward excellence in education in the field of neonatal and pediatric medical care.
Hope in Grace
PO Box 490581
Blaine, MN 55449
Tel. (763)785-6919
https://hopeingrace.org/
https://www.facebook.com/Hope-In-Grace-278179850165
https://twitter.com/HopeInGraceMN
SPECIAL GUESTS
• TBA
WISHLIST VOLUNTEER STAFF
Producers: Jenny Wallack Schenk, Jon Marshall Voorheis, Laura Trafton
Organizers: Tony Doffin
Volunteers: Sign up now! https://bit.ly/23pjvolunteer
Photographer: Volunteers needed! https://bit.ly/23pjvolunteer
Videographer: Volunteer needed! https://bit.ly/23pjvolunteer
AUCTION
Pearl Jam Poster Autographed by the band
RAFFLE
Donate Now: https://bit.ly/pjdonation