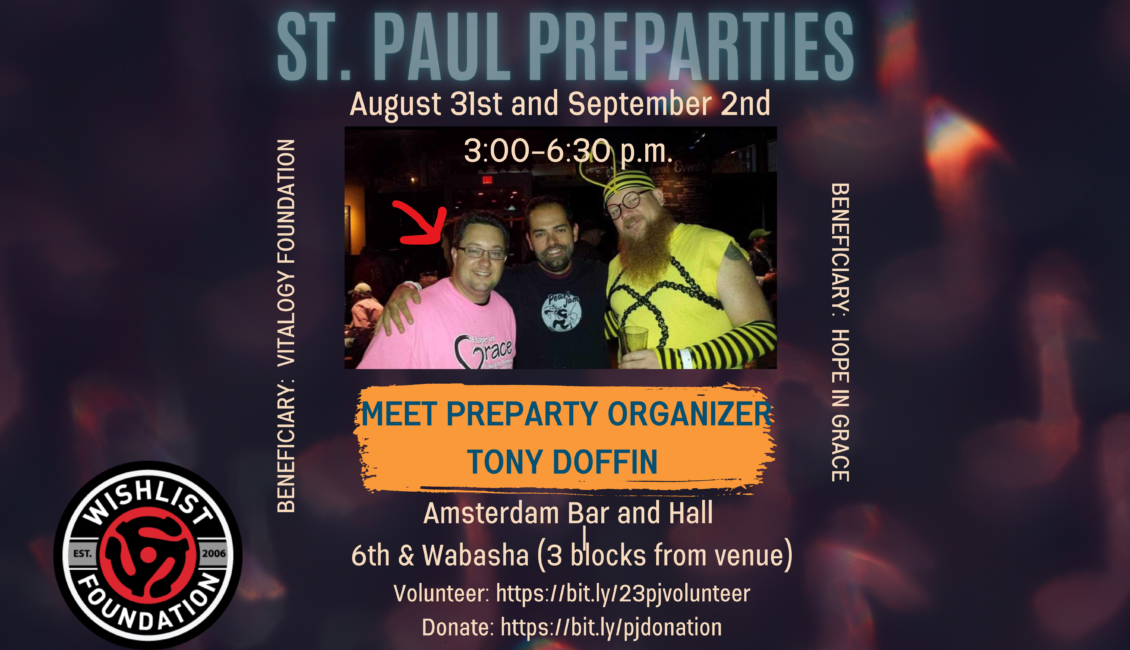 By Chrissie Ferguson
Pearl Jam's 2023 U.S. tour is right around the corner, and it begins in St. Paul, Minnesota! If you are one of the lucky ones heading to these shows, make sure to stop by the Wishlist Foundation preparties on August 31st and September 2nd at the Amsterdam Bar and Hall (6th and Wabasha, only three blocks from the venue) from 3:00-6:30 p.m.
Have fun catching up with old friends and meeting new ones, all while raising funds for Hope in Grace and the Vitalogy Foundation.
The Wishlist Foundation preparties are sure to be a great success with our veteran preparty organizer, Tony Doffin, in charge.
Get to know Tony and learn more about why we should all show up to the Wishlist preparties to support Hope in Grace and the Vitalogy Foundation.
CHRISSIE: What does Pearl Jam mean to you? Tell me a little bit about YOUR Pearl Jam story?
TONY: I have a brother that is 6 years older than me who had been listening to them (Pearl Jam) since they first started, so Ten and Vs. and even Vitalogy. I would have been 14 when Ten came out so I wasn't quite into that music yet, but I would say by '95, I was full into them. I first saw them in '98 in Chicago. I really only saw them between then and 2003 because of school. But since I got to Minnesota, I have pretty much done whatever I could to see them at some point.
And for me, what solidified everything was in 2008 when my daughter died of a congenital heart defect at the age of 10 months…she was one of triplets. This was in July 2009. I spent pretty much the better part of the next month—multiple times a week—at her gravesite, listening to Pearl Jam songs, whether it be "Come Back" or "Release" or anything…mostly "Come Back" and I would actually sing it to her while I was sitting there.
I already had tickets for the Chicago show in August '09. So a month later, after she died, Ed starts the show with, "We've got a lot of emotion to get through. Let's get through it together." Halfway through set one, they played "Come Back." I absolutely lost it. I know it's the only time I cried at a concert. I felt it was meant to be. I felt she was there. Somehow I felt that the band knew. And they have been far and away my favorite band ever since. I rarely listen to anything else.
CHRISSIE: I am so sorry, Tony. This is just horrible; I had no idea. My heart goes out to you.
TONY: Thank you.
CHRISSIE: So the beneficiary for the St. Paul preparties came to be because of your personal experience?
TONY: We were trying to come up with something to keep our daughter's memory alive and to do things for the people that helped her while she was alive…and for other families who are going through similar things. So we came up with a nonprofit organization, called Hope in Grace. And what we have been doing with the organization is that we are raising money for pediatric cardiology research at the University of Minnesota hospital. And we also give yearly awards to intensive care nurses–whether they are in the pediatric cardiology division or neonatal intensive care–where families will vote on a nurse that had a special impact on their kid's life, and we pick a winner and give an education award to them every year. We primarily funded the foundation with an annual 5K. We did that for 10 years until COVID hit, but in those 10 years, we raised a quarter of a million dollars. And we've been able to give that all back to the hospital.
So in the middle of all that, they (Pearl Jam) finally announced they were going to play the 2014 show in St. Paul. And I reached out to Laura (Trafton)—who I didn't know, but I knew from going to Wishlist preparties, that they had preparties in all the cities—and I reached out to her through Facebook to see if they needed an organizer in St. Paul, and so we ran that event in 2014. So this is my second go around.
CHRISSIE: Hope in Grace sounds like an amazing organization.
TONY: My wife and I haven't been doing much lately. Hopefully, this will kickstart something because we haven't been doing anything since COVID.
CHRISSIE: Well it's tough. A lot of things have been tough since COVID. I think this will definitely help get the word out and help the organization get the exposure and support that it needs. It's great what you are doing!
So you've been involved with Wishlist for a while. Before you first hosted the 2014 preparty, had you been going to many preparties before that?
TONY: I had been going, but I had never volunteered at one. I believe I started going to them the year prior, in 2013. I went to the first Wrigley show. Then, we went to Pittsburgh and Buffalo. Since then, I've been to ones in Moline, Milwaukee, all the ones in Chicago…St. Louis last year.
CHRISSIE: I was at the St. Louis preparty. I probably saw you there…So why should Pearl Jam fans go to the Wishlist preparty, rather than going somewhere else to meet up with friends?
TONY: Well, I think that this is where I would typically be meeting up with friends. But this is the beginning of a tour—the beginning of a very short tour—it's going to be exciting, and I think it's important for people to do stuff like this and to go to a Wishlist preparty and do what you can to give back to the band that's given all of us so much through their music. This is a way for all of us to support them and—granted, there are other organizations and that's great to support those too—but also supporting the foundations that they (the band) support, or that they are prioritizing, is important.