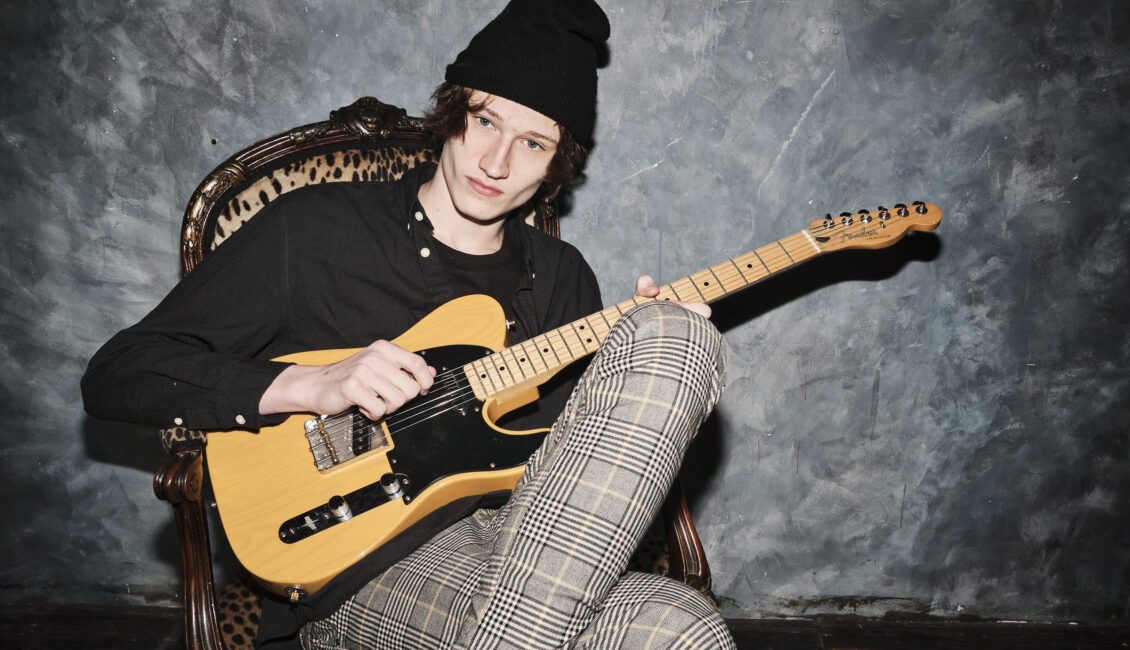 In 2017, opportunity knocked on 12-year-old Jack West's door when he spotted Eddie Vedder in his hotel lobby. While many of our 12-year-old selves would have hesitated to approach anyone that we did not already know – let alone a rock legend – West did not hesitate to introduce himself to Vedder.
In fact, the two spent 10 minutes talking about West's hometown of Rochester, New York, and singing on stage. But it was one specific question that West had the courage to ask Vedder – "Can I sing on stage with you tonight?" – that would forever change his life.
"He gave me guitar picks and said he'd find me in a few hours," said West. "Then I practiced and was backstage for about 30 to 45 minutes before the show started."
Pearl Jam fans were soon introduced to the young singer/songwriter when West sang "Society" alongside Vedder that evening at the Pilgrimage Music Festival.
"I wasn't really scared," West shared of his experience singing in front of 30,000 fans. "I just walked up there and did my thing and walked off. It was super crazy."
While West has been playing the piano since he was just four-years-old and the guitar since he was eight, it was his stage debut that helped West to see things so much clearer.
"Up until then, there were a number of things that I wanted to do – whether it be a director, an artist, or a painter," Jack said with a smile. "But when that happened, I just knew I wanted to do music."
And so the journey began. As if the waves on distant shores were simply awaiting his arrival, West jumped in with both feet, hopped on his board, and he was ready to paddle. He began jotting down notes and writing lyrics on his phone. These notes would later become West's first 2018 single – "Old Soul".
It didn't take long for Seattle-based producer/engineer and founder of Laundry Room Studios – Barrett Jones – to notice West and to take him under his wing. West's debut album – For the Record – was soon recorded and later released in August 2019.
Only one month later, West's first live EP – Jack West Live at Easy Street Records – was recorded at his album release party at the renowned Seattle retail record store in September 2019.
With more time to write and sing during COVID, other singles, like "Forever," "The Last Arcade," "Run Back to Me," and "A Little Shine" were recorded and produced remotely with West, his band, and Jones.
And before West knew it, Pearl Jam re-entered his life when guitarist Mike McCready agreed to play the solo on the 2020 single, "Missing Out," – a song inspired by the pandemic lockdown.
"I was just going to play the solo on it," said West. "But at the last minute, Barrett got a hold of Mike, and he played it from his house in Seattle."
While West has performed at a variety of New York City clubs, he has also rocked the stage at the 50th Woodstock Celebration in Bethel, New York, the Bottlerock Festival in Napa, California, and in Asbury Park at rock photographer Danny Clinch's Transparent Gallery.
He looks forward to touring again soon and playing songs from his latest album, Numb, which is set to release late 2021/early 2022.
"I really liked writing this album because I have been writing about whatever I want and recording whatever I want," West shared. "It should be cool. And I'm excited for people to hear it."
When asked how he plans to balance touring and his school schedule, Jack grinned, "I had my first day of school today. I have been online for the past five years. I guess I am going to have to learn how to balance it."
Join the Wishlist Foundation tonight – Friday, September 17th, from 1:00 p.m. to midnight, at Johnny and June's, located in the Berkeley Oceanfront Hotel. The event will benefit Mercy Center, Pearl Jam's Vitalogy Foundation and Surfrider Foundation. Don't miss Jack West's performance this evening. It is sure to be epic!
Follow Jack West on Facebook or on Instagram @jackwest32.
Watch my full interview with Jack West below.
Featured Photo Credit: Clay McBride