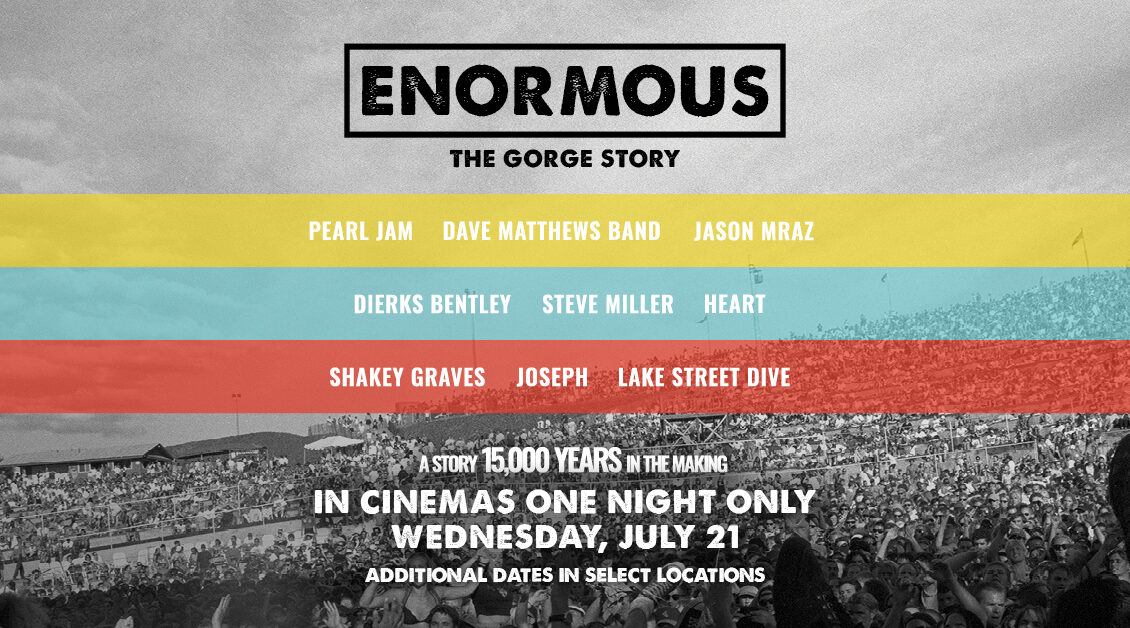 Follow the stories of Dave Matthews, Jason Mraz, Pearl Jam and more to discover how The Gorge, geologically and musically, became a life-changing mecca for artists and fans.
Tickets are now available for this special one-day theatrical release event at EnormousMovie.com.
Chronicling its journey from unlikely beginnings, Enormous: The Gorge Story weaves together personal stories from music legends Dave Matthews, Mike McCready (Pearl Jam), Jason Mraz, Dierks Bentley, and Steve Miller, with the emotional narratives of audience members who have built their lives around the venue. These stories reveal how a family-owned winery-with a makeshift plywood stage-ascended to become "The Gorge," a Billboard, Pollstar and ACM winning music venue.
In addition to the full-length film, this special screening event will feature exclusive, never-before-seen interviews with Hozier, Phantogram, and Portugal, The Man. The night will also include a world premiere of The Enormisodes – five mini-documentaries about The Gorge – along with a blooper reel featuring Dave Matthews, Jason Mraz, and Pearl Jam's Mike McCready, among others.
Starring: Dave Matthews, Mike McCready, Jason Mraz, Steve Miller, Pat Monahan
Director: Nic Davis
Producers: Tim Williams, Nic Davis, Brian de-Herrera Schnering
Release Dates: July 21 & 22, 2021
Run Time: 85 Minutes
Stay tuned to learn how you can win a pair of tickets to a screening of the film in a theater near you!
Featured Photo Credit: Darren Balch