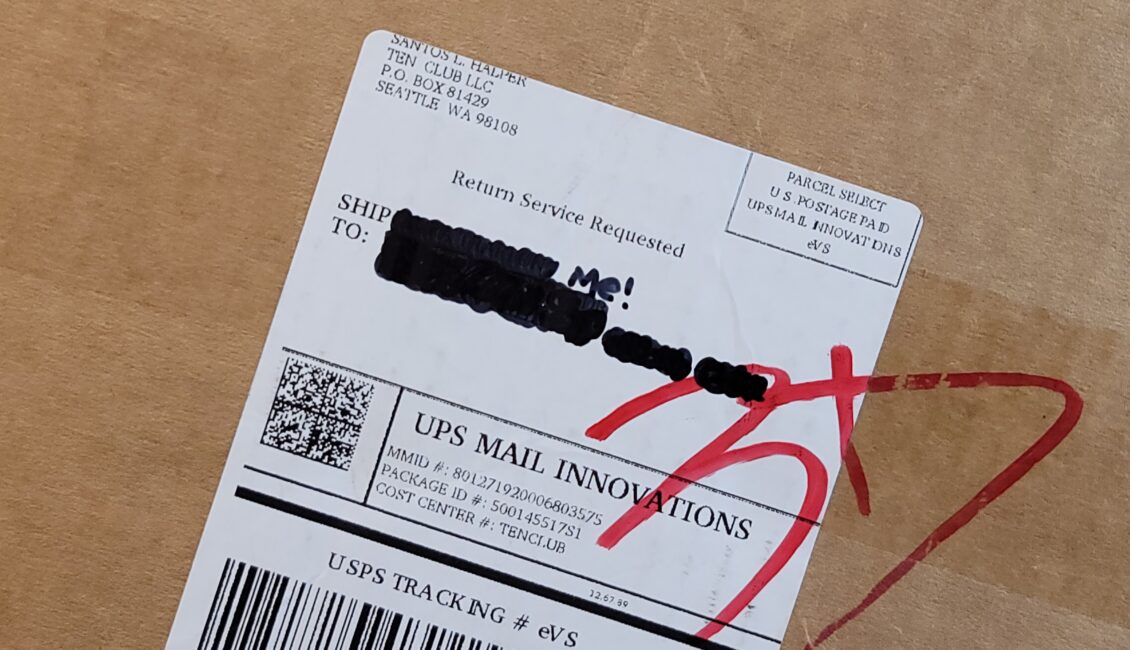 While I'm mildly (and pleasantly) surprised that there aren't a million threads in our Facebook groups about the elevated cost of shipping the new puzzles & buttons from pearljam.com – I was curious myself and looked a little further into their process because I'm a business/product/supply chain nerd and I love trying to MacGuyver how things work.
THIS IS ALL JUST MY HYPOTHESIS – A GUESS. I do not have any actual knowledge of their shipping process.
That being said, I checked out my most recent delivery from Ten Club, the 2021 Alive 12″ Vinyl Single. I'm going to use the Alive vinyl as the ongoing example.
LOGISTICS PROVIDER
On the label it says they use UPS Mail Innovations. According to their website, it's "a mailing services provider that can pick up, process and provide interim transportation of all your mail and parcels to both domestic and international locations." Basically an enterprise shipping, logistics, risk management, ecomm solution for businesses that ship in large volume. This likely helps them turnkey manage shipping. THIS IS A COST OF SHIPPING.
DELIVERY SERVICE
Interestingly enough, while they use UPS Mail Innovations, they don't actually *ship* their packages via UPS – rather they use the United States Postal Service (USPS), at least for domestic. As an IL resident, I have no idea what you international people have to deal with. (Yikessorry!) I'm guessing because UPS doesn't deliver to PO boxes, or Army Post Office (APO) and Fleet Post Office (FPO) addresses. I also think their prices do tend to be higher than USPS.
The Alive vinyl was shipped via Parcel Select US Postage Paid – "an economical ground delivery service for packages entered in bulk, including those entered at destination facilities. It is designed for and generally used by large- and medium-sized parcel shippers."
Parcel Select mailers pay postage that reflects the degree of work-shar­ing they do in presorting their parcels and/or drop shipping their pieces at a destination facility located closer to the delivery point. A significant amount of the current destination-entry Parcel Select volume tendered to the USPS comes from parcel shippers who have tradi­tionally been their competitors: DHL, FedEx, and United Parcel Service (UPS).

Parcel Select service allows each carrier to leverage their core capabilities, such as long-distance transportation, with the Postal Service's extensive delivery network to achieve cost savings and improved service. Parcel integrators and consolidators offer up-front esti­mates on delivery times and value-added services, includ­ing customized rates and services, billing, manifesting, insurance, tracking, Electronic Data Interchange, Delivery Confirmation™ service, and pickup service.

THIS IS A COST OF SHIPPING.

https://about.usps.com/postal-bulletin/2007/html/pb22219/kit2_002.html
RETURN SERVICE
Also indicated on the label: Return Service Requested. This means if one of us types our address wrong, forgets to update, leave a forwarding address, etc. their product doesn't just go to the undeliverable department of your local post office – which would be a huge expense loss to them, as we'd complain that we'd never receive the item. They would either have to refund us or send us another item that then incurs an entirely NEW expense of product, box, label, printing, management, fulfilment, postage (that they would now have to pay for themselves, because you'd bitch about paying shipping 2x for an item).
Return Service is insurance for THEM to get their product back in the event that it's undeliverable – and I don't blame them at all for this. Without it, we'd just see the cost added to product pricing. THIS IS A COST OF SHIPPING.
TRACKING NUMBER
So you & Ten Club can both monitor your package through the delivery process. THIS IS A COST OF SHIPPING
PACKAGING
Odd sized cardboard/kraft boxes like the ones used for vinyl records, even in bulk, can be expensive. I pay $1.01 for variable depth corrugated (easy fold) vinyl kraft mailers in quantities of 100 for my own business. Pearl Jam uses an upgraded premium tri-fold mailers. The cost does go down with bulk orders, but that's still an impact. They also use a sheet of bubble wrap for extra protection, also a cost. Then there's the label, label printer, actually printing the label, packing tape, etc. THIS IS A COST OF SHIPPING.
OVERHEAD & LABOR
Let's not forget the most important factor in the process, the human elements. There is the warehouse where all of the products and shipping supplies are stored, the lease, utilities, property taxes and all that is involved on the corporate end. Countless hours are spent by Santos and other employees involved in the fulfillment process. Plus they're always trying to find more efficient, cost effective, environmentally friendly ways to improve the process. Yes, these are the necessities of doing business, but it's still factored into the COST OF SHIPPING.
COST SUMMARY
UPS Mail Innovations – service provider (& partial postage fees?)
Parcel Select US Postage Paid – postage fees & likely insurance
Return Service – to pay to return undeliverable mail back to 10C
Tracking Number
Packaging – box, bubble wrap, label, printing, packaging tape, etc.
Labor & Overhead – all of the things that allow a business to operate, especially the people!
Unfortunately, Amazon has created an expectation of free shipping, which is really just a psychological marketing tool that is proven successful at getting consumers to complete a transaction. It doesn't matter that you're still paying for shipping – it's just added right on top of the actual item cost – 8 out of 10 consumers will still pay more for the idea, the concept of "free shipping." It creates a sense of accomplishment, achievement and success in getting a deal. Marketing Psychology 101. Everything comes at a cost.
Pearl Jam is still a relatively small business by comparison to other retailers. It makes sense to cover their costs, perhaps with some extra padding, just in case.
At the end of the day, it's about supply and demand. If PJ offers a product that you truly want, you're going to pay the shipping fee, even if doing so grudgingly. How many times has their music helped you in your life? Personally, I'm happy to support the business of the band and those that work in it.
If you made it this far, you now may know way more than you probably ever wanted to know about shipping – and like I mentioned previously, this is just a fraction of the iceberg that they likely deal with on a daily basis.
If your order shipping costs cause you frustration, please consider all of these points, and probably many more that I've forgotten, then play Vitalogy and remind yourself how much you love this band.
Laura Trafton