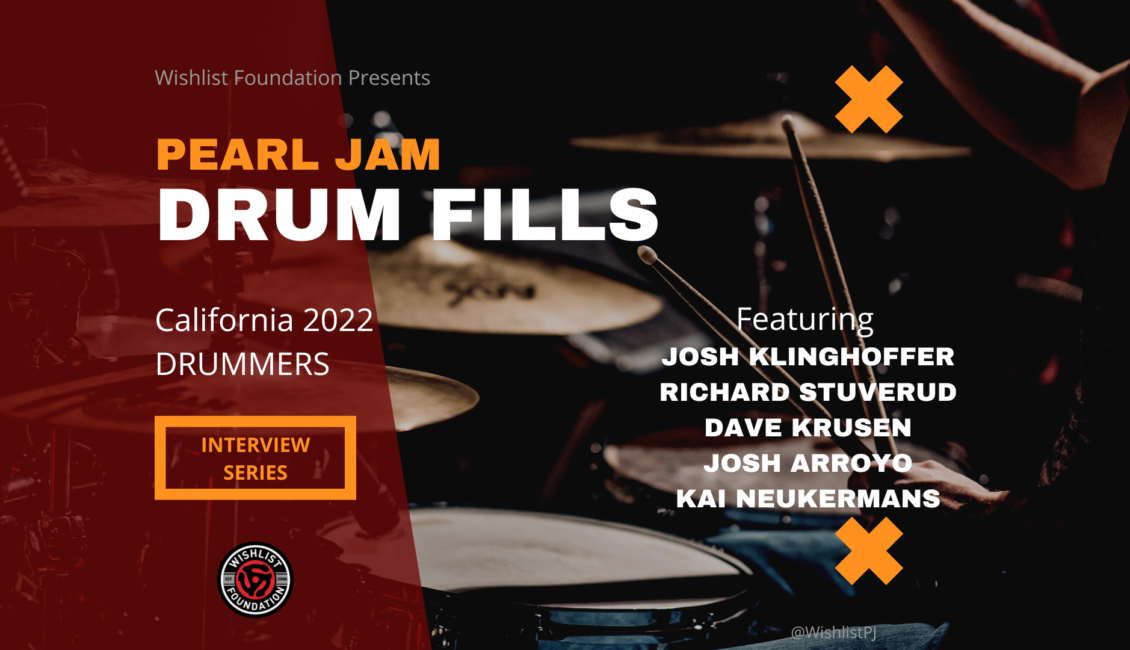 By Chrissie Ferguson
In a world filled with hate, fear and stress, there is one thing that comforts us all—music—live Pearl Jam music, to be exact. So when COVID attempted to steal the joy from the Pearl Jam community once again this past May, the band refused to surrender.
The first leg of Pearl Jam's 2022 North American tour kicked off in San Diego, California, on May 3rd. Many fans had waited two years for that day, holding on to tickets from the postponed 2020 Gigaton tour.
While Baltimore was eliminated from the original 2020 lineup, due to renovations at the venue, other shows had been added to the first and second leg for fans on this tour. 
"Oceans" was the perfect way to serenade an audience who had waited patiently to hear Eddie Vedder's melodic voice live once again. And with the first line, "Hold on to the thread, the currents will shift," the long-awaited tour had finally begun. Next stop, Los Angeles at the Forum for two nights and then Glendale, Arizona. 
The excitement for the upcoming, back-to-back shows in Oakland, California, was palpable. But, little did fans know that the fate of the Oakland shows was hanging in the balance because the one…the only…Pearl Jam drummer, Matt Cameron, had tested positive for COVID.
"I knew—if possible—they (Pearl Jam) really didn't want to cancel shows after not being able to perform for two years," said Josh Klinghoffer, former Red Hot Chili Peppers guitarist and a touring member of Pearl Jam. "If there was any way to make it through the show…maybe even no drums…the idea was, 'How can we do it?'"
While the band knew that Matt Cameron could never truly be replaced on the drum kit, they agreed, "the show must go on." And so the quest to put together the perfect stand-in drum team began.
"We made the decision to split the drumming duties between Richard (Stuverud) and myself," Klinghoffer recalls, "mostly because there was a question whether either of us were in good enough shape to do a 2 ½ hour show out of the blue. I certainly didn't know if I could."
Stuverud, who has known Pearl Jam bassist, Jeff Ament, as a friend and bandmate (War Babies, Tres Mts. and RNDM) for several years, was first notified of Pearl Jam's dilemma when Ament sent him a text, asking, "How many Pearl Jam songs do you know?"
"It was pretty surreal," shared Stuverud, who teaches aspiring young musicians at School of Rock Berkeley.  "I was at the school, about to get into teaching lessons, and it was all happening. I talked to reception and was like, 'I have to go.'"
"Everyone was super supportive," Stuverud continued. "As a matter of fact, the last group I directed was called 'the grunge group,' and they all voted on (playing) 'Why Go.' It's so funny how interestingly full circle moments kind of come around."
The next 24 hours were filled with a little bit of practice and a lot of excitement for Klinghoffer and Stuverud. Before they knew it, it was time to take the stage at the Oakland Arena on the evening of May 12th. And the show began…in an unusual way.
"Eddie had the amazing stroke of genius idea to start the first show basically backwards, and we came out with the house lights on and played 'Rockin' in the Free World,'" Klinghoffer said.
And that stroke of genius immediately caught the attention of fans.
"The house lights went down, and then the house lights came right back up," California-based Pearl Jam fan, Josh Arroyo, shared. "And they opened up with 'Rockin' in the (F'ing) Free World' for the first time ever, with Josh Klinghoffer on the kit. They've never opened with 'Rockin' in the Free World.'"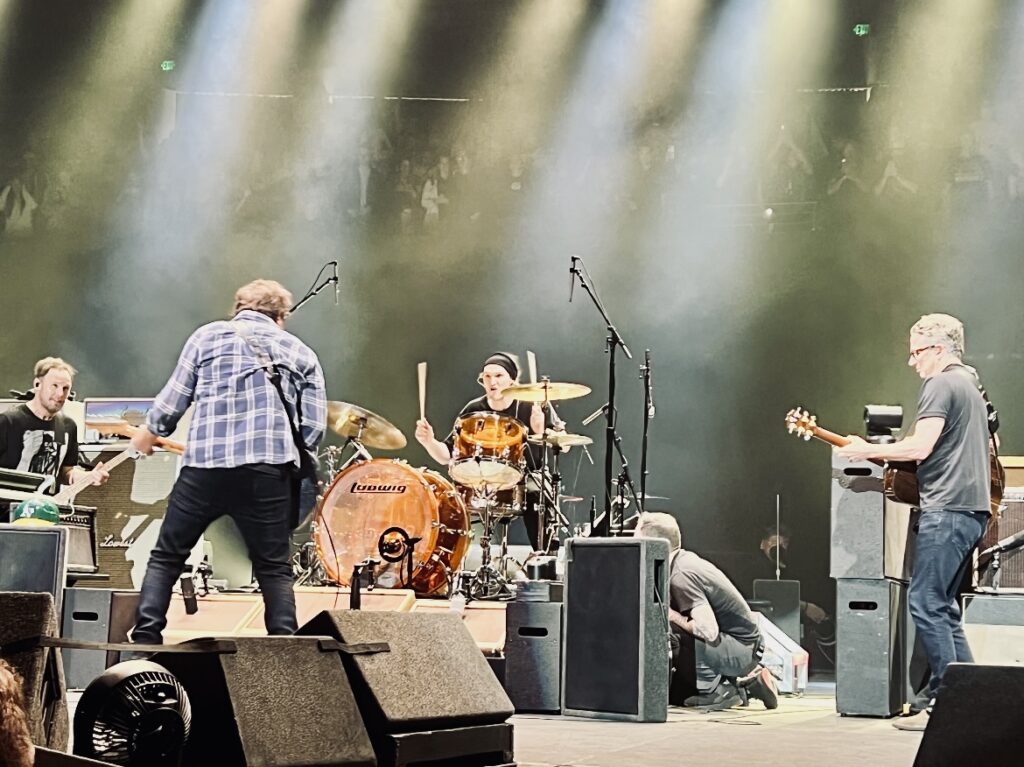 While this unique way of opening a Pearl Jam show evoked goosebumps for many fans, the perspective from the drum kit was intoxicating.
"I've seen many Pearl Jam shows, and I know that level of elation when you've gotten to the finish line of a show," Klinghoffer said. "And it looked like we had already been playing for three hours, with the smiling and the joy that was in the room. And we had only been on stage for a couple of seconds."
Pearl Jam fans were ecstatic to witness the band on stage once again, but many wondered why Matt Cameron and his drum kit had not yet taken the stage by the third song. Soon, Vedder's words confirmed that Cameron was, in fact, out with COVID, and disappointment set in for many fans.
Arroyo remembers thinking, "God Damn it. No Matt Cameron. He (Matt) is my favorite living drummer. No questions asked. His power; his precision. Eddie calls him the engine. It's totally correct."
"I think I was just trying to process what was going on," said Lisa Rosenberger, a PJ fan from D.C. "Once it was confirmed (that Matt was sick with COVID), it was almost like, this is the epitome of a pandemic-era show, and we are literally all just going to do the best we can."
Klinghoffer, who also played drums with the band Warpaint, sat behind the kit for the first four songs on the main setlist. The multi-instrumentalist then passed the drumsticks to Stuverud, and the two talented musicians would rotate their drumming duties throughout the night.
"Walking up that ramp…it's hard to explain," Stuverud reflected. "And Eddie with the gracious introduction was pretty amazing. Then, taking the stage and especially getting a pretty good response (from the fans) is the most gratifying thing. It all comes together. It was a magical moment."
The crowd's response to Stuverud on the drum kit was more than just "good," it was "great," especially when he had the opportunity to play the Who's "Baba O'Riley." 
"'Baba O'Riley' was just incredible,'" Stuverud said enthusiastically. "I played along with The Who when I was a kid with a black spray painted drum kit and a huge stereo in my basement. And to be so attached to that song as a kid in early drumming and then to be in an arena with Pearl Jam, with the house lights on, was incredible."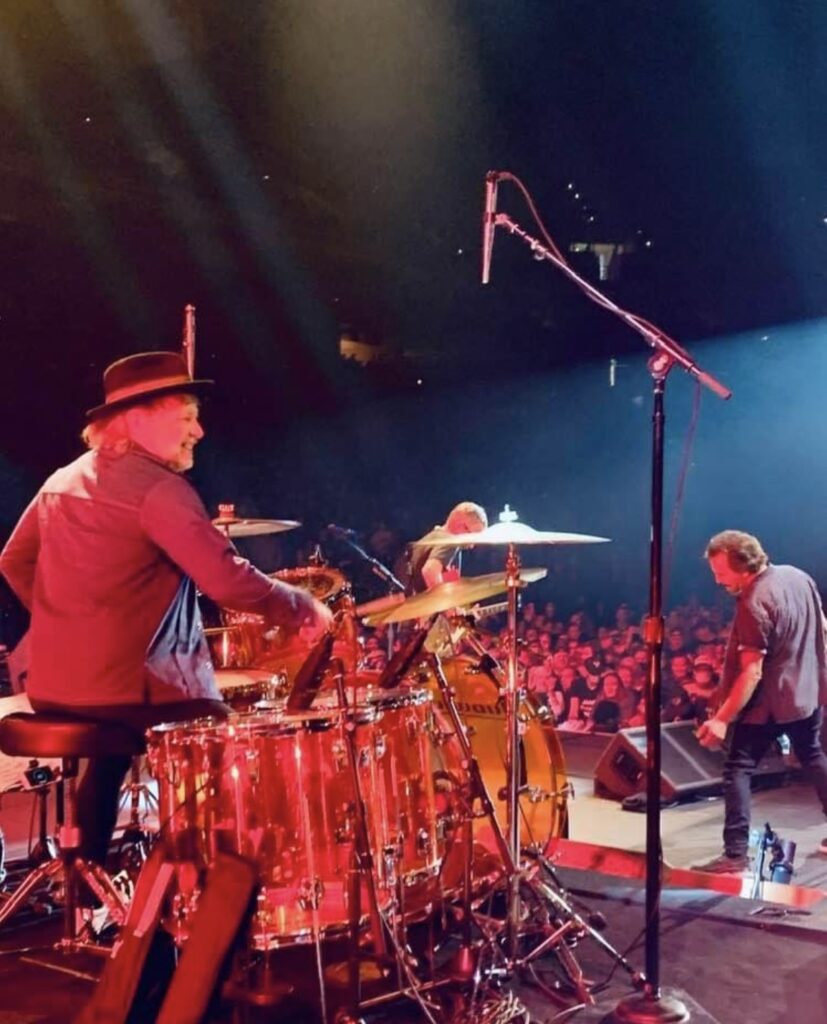 An animated Stuverud continued, "I'll never forget Mike coming up to the drum riser, too. He just jumps up there and goes, 'Keith Moon the shit out of this one!'"
The final set would soon come to an end, but not before a dream came true for PJ fan, Arroyo.
"'Eddie asked, 'Are there any drummers out there?' Arroyo recalled. "I heard it. I grabbed Isabella (my daughter). We ran downstairs to the railing, just above the general admission floor—Mike's side. And I'm like, 'Oh my god, he's actually looking for a drummer tonight. So I pulled my t-shirt straight (a shirt that listed the the last names of Pearl Jam's drummers through the years) so that maybe Mike saw the words. It was a black shirt with big white font—visible from 25 feet away.'"
"Mike saw my shirt," Arroyo continued. "And he tapped on Jeff's shoulder. Jeff gets a laugh out of it, enough to get Eddie's attention and get Eddie to look over and see me with the shirt and my excited daughter."
Arroyo, a former drum tech for Ben Harper and current drum tech for Jack Johnson, was soon pulled from the crowd. He was first tested for COVID. Then, he practiced "Yellow Ledbetter" backstage. And the rest was history.
"It was time to take the stage," Arroyo said. "I was as nervous as could be. I think Ed was looking for a hug. I was so nervous I just went straight to the drum risers and gave him a thumbs up. I was thinking, 'Oh my God, this is insane.'" 
As Mike McCready played the final notes of the Hendrix-style solo finale, "Yellow Ledbetter," the crowd erupted in cheers and applause as Arroyo took the final bow with the band. Suddenly, the Matt Cameron fan who had entered the Oakland Arena with a "really cool t-shirt" exited the stage with the support of a proud daughter and 20,000 Pearl Jam fans.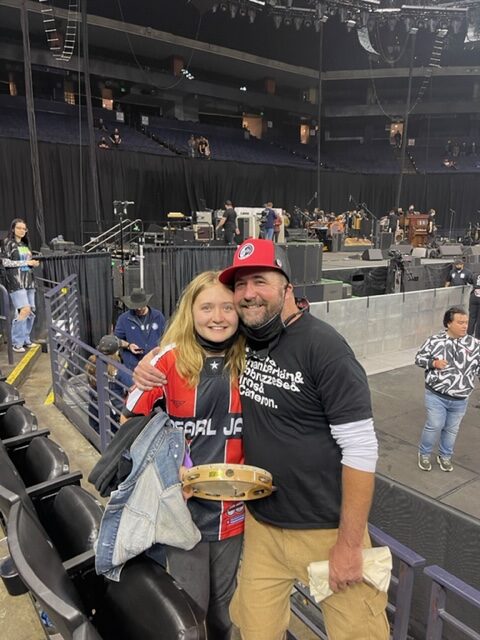 "Obviously, everyone was so sad that this had to be happening. Someone like Matt Cameron is the backbone of a team. That star player gets injured, and we have to win this championship anyway," Klinghoffer said as he reflected on night one of Oakland. "We made it through the first night, and it did feel like—in a way—that we had won some sort of championship. Against all odds, we pulled it off."
Night two at the Oakland Arena came quickly. Klinghoffer and Stuverud passed the baton from behind the drum kit, once again. And the chemistry between the band and the rotating drummers came alive.
"The second night I had really good seats in the 100 level," PJ fan, Rosenberger, said. "I was able to see a lot better about what was going on. And I could see how keyed in Mike and Stone were with Josh and Richard and how they were just trying to work together."
But it wasn't just Klinghoffer and Stuverud on the kit that evening. 18-year-old Kai Neukermans, of the California rock band The Alive, sat behind the drum kit, too, wowing the audience with an exuberant version of "Mind Your Manners."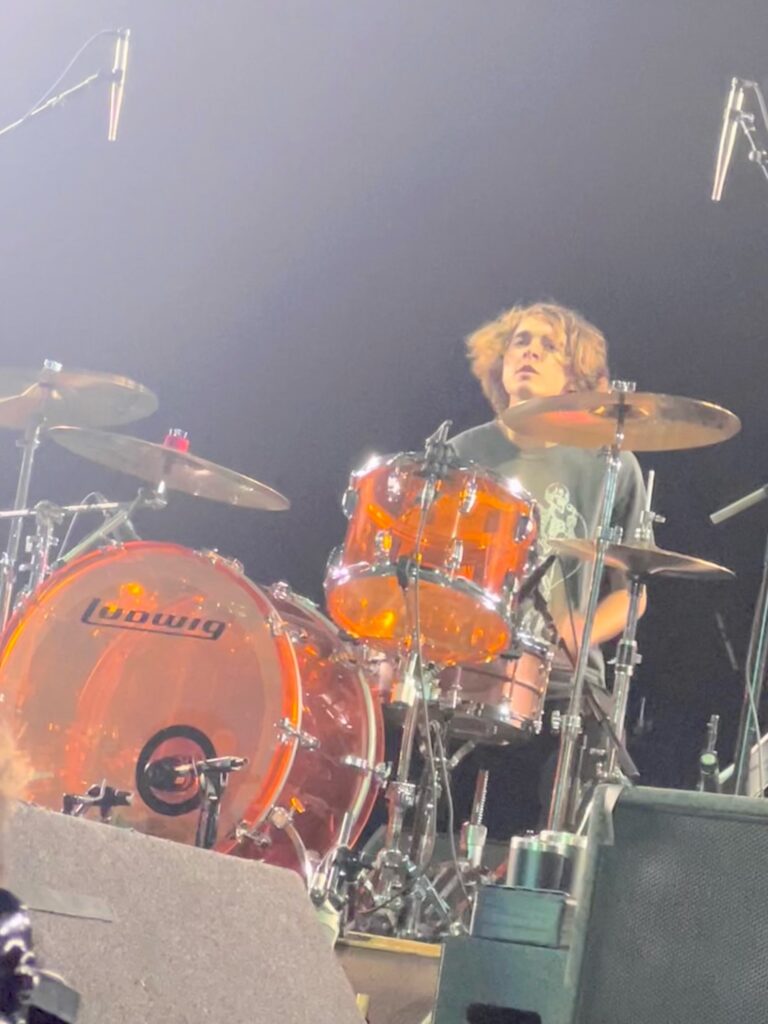 "I reached out to Olivia (Vedder) after hearing that Matt Cameron was out sick with COVID," Neukermans explained. "She got back to me and said, 'Send me a video of you playing a PJ song.' I sent her 'Mind Your Manners,' and I got the green light."
Impressed fans responded to Neukermans' performance with adulation. And Eddie Vedder even responded with a "F*** yeah!"
"It was a surreal experience," Neukermans said. "And it blew my mind to be on stage with them!"
Fresno, California: May 16th, was the next stop on tour. Fans crossed their fingers and remained hopeful that Matt Cameron might return to the drum kit.
"I was waiting in the GA line," Chris Waters, a Pearl Jam fan from Michigan said. "We got there at about 4:30. People were monitoring social media to see whether or not Matt was going to be out. Everybody was hopeful that he was going to be there and that he was okay."
While Klinghoffer and Stuverud would rotate on the drum kit once again, the real surprise for the fans came when Pearl Jam's original drummer, Dave Krusen, took the stage. 
Waters' reaction to Krusen sitting behind the drum kit was "'Oh my god, I can't believe it's the original drummer.'"
"I was there by myself and quickly made friends with about 5 or 6 other people. And we were like, 'Is he going to play all of Ten? What's going to happen?'" recalls Waters. "It was exciting. It was very exciting that we got to see Dave."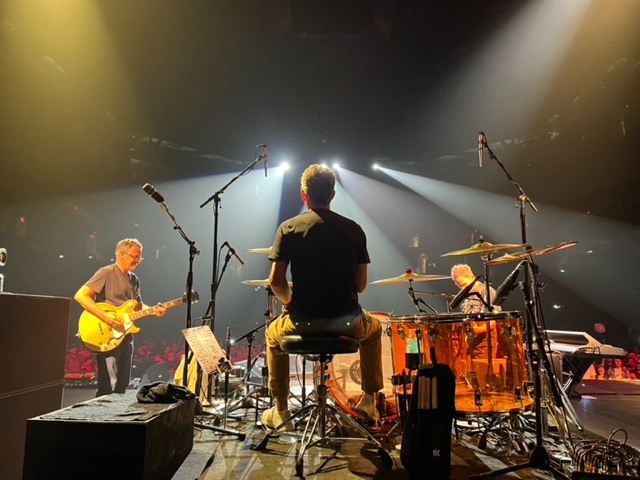 And yes, Krusen would play every song from the album Ten, except for "Oceans" and "Release," transporting fans back in time to the early 90s.
"Everyone was ecstatic," Waters said. "I didn't think that would ever happen. Eddie said something in Fresno that he hadn't played with Dave in so long, and it was almost a deja vu thing, where he's remembering all the different keys and the ways they played. He was kind of feeling it, too."
It was a show for the books for Pearl Jam fans. But it was also a memorable night for Krusen.
"It was an absolute honor and thrill to be around the guys again and get to play with them one more time," Krusen said, "and I would love to get the chance again."
Sitting behind the drum kit was not just an honor for Krusen, Stuverud and Klinghoffer also felt grateful for the opportunity to play with the band.
"Rising to the occasion and delivering the goods, and having fun, and just having a band looking back at me and smiling…and I can't stop smiling," Stuverud said. "It was just the most incredible kinetic energy I have ever felt. And I love the band. They are just so great. They sounded so killer on stage. It's like, 'Wow, this is something really special.'"
"This whole experience with Pearl Jam is one big mouth agape," Klinghoffer said. "I can't believe this is happening just because of how important they have always been to me, particularly when I was a kid."
Klinghoffer was especially grateful to the fans, the band, and the crew for their support of the drum team that stepped into Matt Cameron's shoes for three nights.
"There is a level of love and understanding and support that the fans have for the band," Klinghoffer said. "Pearl Jam is an amazing—if not the best—example of a band…the band and the crew…of everyone working together to make this music come to life. It really is a team effort. It's often forgotten, but the audience is a very important part of the team."
*Stay tuned for upcoming interviews and feature articles with Josh Klinghoffer, Richard Stuverud and Josh Arroyo.
*Check out Josh Klinghoffer's new Pluralone album, This is the Show, at orgmusic.com. Richard Stuverud's new album, Hummingbirds, can be streamed and downloaded here. Check out what Dave Krusen is up to at davekrusen.com.