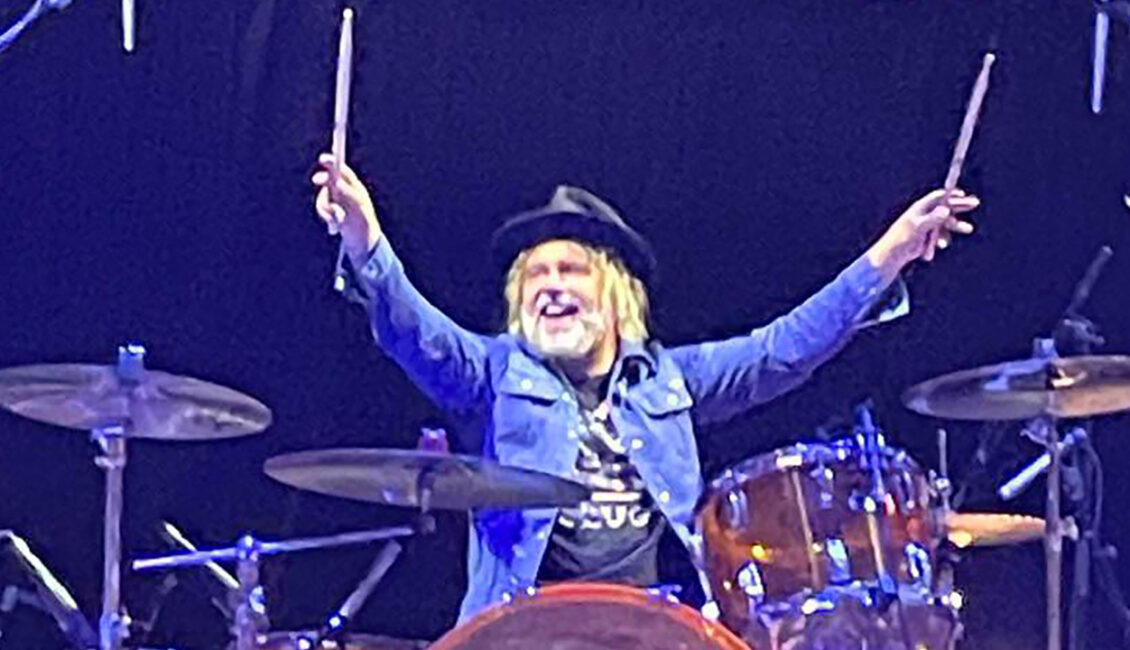 By Chrissie Ferguson
Keith Moon of The Who was known for living in the moment and for the intensity with which he played the drums. His drumming style was so unique, in fact, that many believe that Jim Henson's Animal of the Muppets was inspired by Moon.
Playing the drum kit with the same vivacity and stamina as Moon is not easy to emulate, however.
It takes someone who exudes positive energy. It takes someone who can capture an audience with every strike of the drum and cymbal. It takes someone like the incredibly talented musician and teacher—Richard Stuverud—who knows exactly how to "Keith Moon the shit out of a drum kit."
Not only does Stuverud play with the same passion and intensity that Moon once did. But just like Moon, Stuverud knows how to live in the moment and to cherish every second behind the drum kit. You can see it in his smile, and you can see it in his eyes.
If you were lucky enough to catch Stuverud playing with Pearl Jam this past May in California, you know exactly what I'm talking about. If not, just check him out on YouTube as he plays The Who's "Baby O'Riley" with PJ in Oakland or in Fresno, California.
It was during these California shows that Stuverud had the chance of a lifetime to sit in for Pearl Jam drummer, Matt Cameron.
But just how did that opportunity arise? I chatted with Stuverud to learn more about the three-night dream come true that will keep him floating on Cloud 9 for quite some time.
CHRISSIE: In May, Matt Cameron missed his first shows in 24 years, due to testing positive for COVID. How many days before that first show did you know that you would be joining Pearl Jam on the drum kit?
RICH: I first received a text from Jeff (Ament) basically saying, "How many Pearl Jam songs do you know?" That was Wednesday before the first of the two nights in Oakland, so that was on the 11th. My response was, "I know quite a few. What's up?" I also got a call from George (Jeff's tech). I think George had already thought that Jeff had spoken to me, but it was just a text. And George was like, "Hey, I heard you're playing with us." And I was like, "Huh?" And he was like, "Oh, wait a minute. I think I might have jumped the gun. Hold on. You're going to get some more calls. And the next call was from the tour manager. He's a great, great guy. He said, "the guys would like you to come down. We'll send a car for you. Jeff will be reaching out with some songs. Come down and rehearse, and we'll go from there." So basically, it was about 24 hours.
CHRISSIE: So you knew a lot of songs, but did you have to learn a lot of songs from the Gigaton album, or had you already started playing around with those newer songs?
RICH: It was pretty surreal. I was at the school, about to get into teaching lessons, and it was all happening. And I talked to reception and was like, "I have to go." Everyone was super supportive. As a matter of fact, the last group I directed was called "the Grunge Group," and they all voted on (playing) "Why Go." It's so funny how interestingly full circle moments kind of come around. But basically, I left school and came home. I just brushed up, listened to a few things and took some notes. And the driver showed up, and it was off to the Oakland arena. What's really cool about these huge venues is there are little rehearsal studios next to the dressing room and the green room. I was super comfortable. I hadn't seen Stone or Mike in quite a while, especially Ed, so it was pretty surreal right from day one.
CHRISSIE: You have a long history with Pearl Jam bassist, Jeff Ament. For those who are not aware of everything that you have done together and what you are currently working on, can you tell us a little bit about your relationship with Jeff and your collaborations?
RICH: I have known Jeff for so long—way back when I was in a band called the Fastbacks, right around the Green River era. We actually rehearsed below an art gallery in the old part of Seattle—Pioneer Square. And we kind of bumped into each other way back—pre-grunge era. Then, over the years, my first record deal was with a band called War Babies. Jeff actually played in this band, which is more of hard rock…maybe not so much on the grunge side. He played a few shows and did a few sessions, and it was kind of the beginning of Pearl Jam at that point. Then, it wasn't 'til pre-Vitalogy that Jeff was really reaching out to do some side projects. The first one was Three Fish. We started tracking ideas for that project in '93/'94. So Three Fish put out a couple of records, and then we did Tres Mts., which included Mike McCready, which is pretty amazing…and an amazing artist, Doug Pinnick from King's X was just a monster musician. And I think what Jeff was really after was having the opportunity and the time, in between Pearl Jam, to kind of work on side projects–like many of the guys do. Brad was happening, Stone's project. We did Tres Mts…that was just one album and a short tour. That was amazing because it felt like, "Wow, this is a part of Pearl Jam right here." And then the RNDM project, which I think we began recording in 2012, so pretty much a little bit after Tres Mts. With that project we did a couple records with Joseph Arthur. We have a long history there, and Jeff is just so hospitable. He would bring me out to Montana. He would let me track some ideas, so it was really a pretty special connection there.
CHRISSIE: So you receive this text from Jeff. You've rehearsed, and you're ready to play the Oakland Arena. What was that first night like for you when you took the stage in front of 20,000 people?
RICH: That is something that is hard to put into words. There is nothing quite like the scale…I mean, walking up that ramp…it's hard to explain. Eddie with the gracious introduction was pretty amazing. But in light of the circumstances at hand…on one hand, I'm thinking about Matt and the odd situation. But then the band deciding not to cancel and just move forward and go for it…it's cool. It's like the band was taking some chances, and Josh (Klinghoffer) and I were like, "Okay, let's do it." We've got the songs we were assigned to. But that feeling—taking the stage and especially getting a pretty good response is the most gratifying thing. This is a magical moment; this is what it's all about. And to feel humility because I think that one conversation I had with Eddie a while ago…he just basically shared, "Don't take a second of this for granted." I've done some tours where there were some large theater venues, but to get to the arena was pretty special.
CHRISSIE: What were some of your favorite moments or your favorite songs to play during the shows?
RICH: It's interesting because on the Gigaton material, I think the band was thinking, "We need to touch on some of these songs." But then, others on that album would almost be too difficult to pull off, with the textured layers and looping and drum machines and stuff like that. "Quick Escape" and "Superblood Wolfmoon" were amazing. And I really love that song, "Seven O'Clock."
CHRISSIE: I do, too. I love that song!
RICH: Oh my goodness. When I was getting the notes, and I saw Matt Cameron playing these three tunes off that album, I listened and immediately, the vocal melody and lyrics and the feel of the tune…I just started to get hairs on the back of my neck. I told Eddie that on the second night when we were going over the setlist with the band. He takes ideas and sorts it out, and he's like, "We've got two drummers" and he's pacing the show. I really had a moment to express how much I love his sensibility and vocal melody. He was really appreciative; it's cool.
CHRISSIE: It wasn't until I heard Ed sing it live at Ohana. After that, I was like, "I really love this song." I loved it before, but after seeing it live, I fell in love with it. There's just so much about that song that I love.
RICH: It's interesting from the drumming perspective, especially if the drummer is really expressive. I'm totally into the Keith Moon thing—kind of the bigger rock sound. There are songs like "Baba O'Riley", which I will say was the most incredible feeling playing that with the band. It's these other songs where the structure is so powerful in every component of the song, like how catchy it is. And the drums can be pretty simple, for me personally, those songs also transcend. But playing "Seven O'Clock" for the first time…it was comfortable…my sound was perfect back there. I even learned a couple Matt Cameron fills on that song. You know, with drumming, things can be different interpretations—a different feel. Back to that initial question—"Baba O'Riley" was just incredible. I played along with The Who when I was a kid…black spray painted drum kit…huge stereo in my basement. And to be so attached to that song as a kid in early drumming and then to be in an arena with Pearl Jam with the house lights on was incredible.
CHRISSIE: I can't even imagine.
RICH: I'll never forget Mike coming up to the drum riser, too. He just jumps up there and goes, "Keith Moon the shit out of this one!"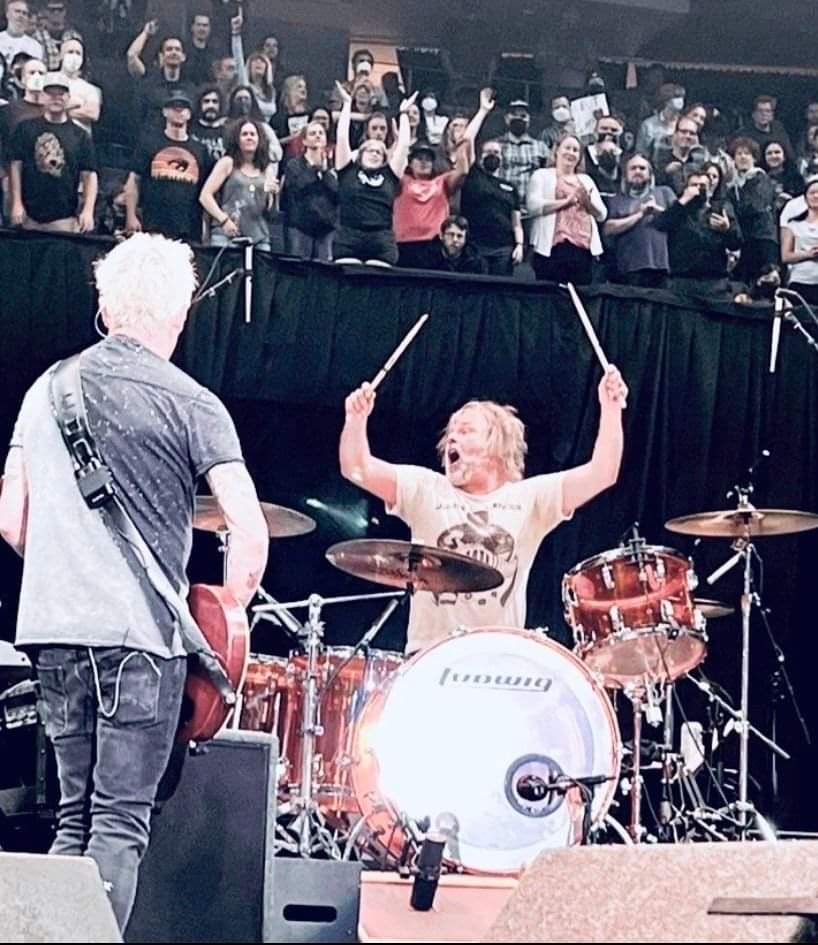 CHRISSIE: Tell us a little bit about being a teacher at Berkeley's School of Rock, and how long have you been a teacher there?
RICH: I've been at the Berkeley School of Rock for three years. Talk about such a gratifying feeling to jump into that role. I had private students for quite a while, for the last five years. Then, to take it to another level of working with groups and a pretty wide variety of age differences. School of Rock is a franchise from the movie. It's a great model, though. Just to get some of these kids rolling, whether they really stick with it or not, I think our job is to just make sure they have fun and help them with self-discovery. And the cool thing, as an instructor and director, you kind of learn a little more about yourself. I feel like I'm widening my own musical parameters in that role. It's a good balance—teaching and doing other projects. I'm playing with a couple Oakland area bands. And I have been really pushing for my solo thing since the pandemic. When everything shut down, it was the one thing that helped keep me in a positive attitude in a pretty dark moment.
I have a second solo record out called Hummingbirds. It's available on most digital platforms. Actually, Jeff's on a couple of songs. I have vinyl as well.
CHRISSIE: I was going to ask you about Hummingbirds. Where do people go to purchase the record?
RICH: Pretty much via Bandcamp. I have been using Bandcamp, instead of having a website.
CHRISSIE: Last question, how has this opportunity to play with Pearl Jam affected your life?
RICH: I think what's interesting about it—not to go much into a philosophical perspective—but it kind of dawned on me when Matt's drum tech, Neil, an amazing professional…sweet, sweet guy…was like, "Matt's doing all right. We are grateful that you and Josh, and Dave Krusen for Fresno could step in and cover." I felt really appreciated. I kept telling Neil, "Please send my regards to Matt." I'll be honest, as a musician, there's no denying the ego element. Even if there were really down-to-earth musicians who say, "I'm beyond ego," it's still there. I feel like there is a maturity level. I feel okay with getting older as a musician, but of course, this was the biggest highlight ever and also, talking about thoughts, "Wow, I can imagine this on a full scale." It made me think about – even though I really appreciated the three shows; it's just incredible. It made me really think about how it might feel if this is what we do full on…the longevity of it. I think it has kept me grounded in a lot of ways, even though I felt like, "This is incredible. I could keep doing this for a while." I think just feeling—not to get into the spiritual thing—but really feeling good about the present moment. Even when I put it into memory banks, it's just a really nice, great feeling of, "That was a really special moment."
CHRISSIE: The show (Oakland) I heard on Pearl Jam Radio was so awesome. I loved it. I wish I could have been there!
RICH: That's great! That's something I really can feel from the Pearl Jam fan base. They were so supportive and genuine. Even when people were surprised…there were fans in Oakland who reached out that they didn't notice Matt's drum kit, and they were like, "Whoa, what's up?" But then, rising to the occasion and delivering the goods and having fun and just having a band looking back at me and smiling…and I can't stop smiling…it was just the most incredible kinetic energy I have ever felt. And I love the band. They are just so great. They sounded so killer on stage. It's like, "Wow, this is something really special." Back to the fans—a lot of the comments were like "We really enjoyed it." I think that, at the end of the day, it's a little different, but we made the show happen.
CHRISSIE: It's a big deal to get Pearl Jam fan approval. That means you did an amazing job if you are getting great feedback.
RICH: It's interesting, too, because the band has gone through so many drummers. So when you have that dynamic, I think the fans could discuss among themselves, "Hey, we are kind of into this era." I really appreciate Matt's style…everything on all the records. It's just so incredible and so tasteful. Every drummer has a different feel, a different persona. Jeff was telling me at the end, "God it's been wild playing with a few different drummers because the band adjusts." Even though it might seem like apples and oranges. You know Josh kind of has a really cool feel…Dave Krusen…a little more laid back. And I know that I probably overplayed at certain points. But then again, I just realized how much Eddie loves the Who, and Keith Moon is my wheelhouse. So I had to deliver it. It is the most incredible feeling.
*Download Stuverud's music here. Check out his debut solo effort, Memories In Kodachrome, as well as his most recent record, Hummingbirds.
*Do you live in the Bay Area? Don't miss Stuverud as he plays with the band, Collisionville, at the Golden Bull in Oakland, California, on October 8th.