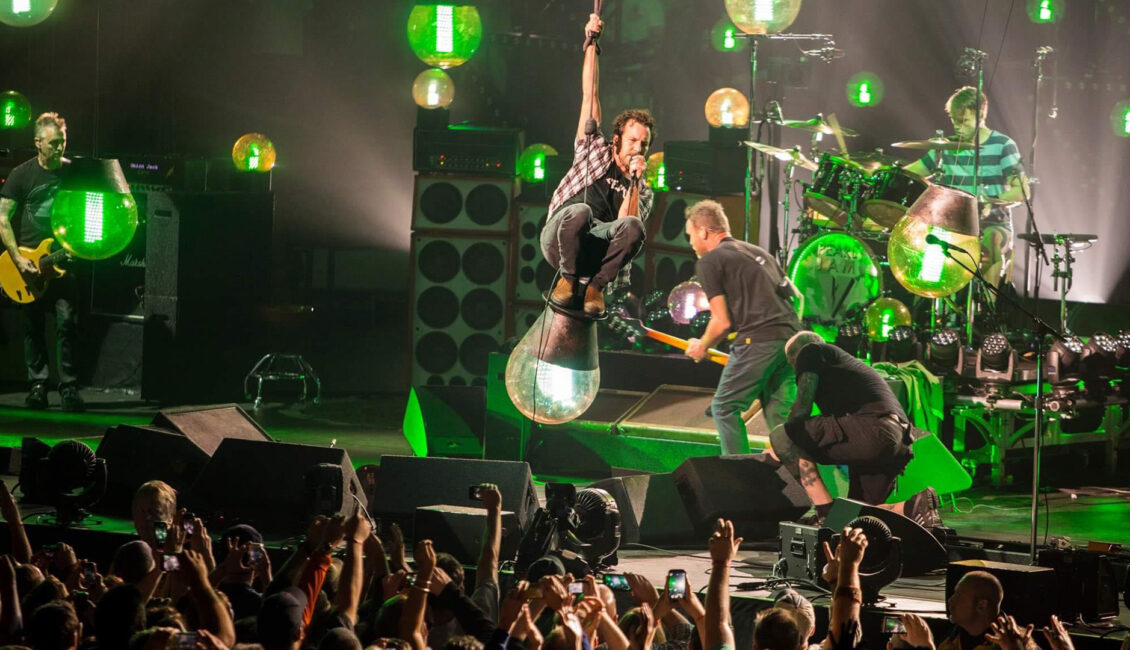 By Chrissie Ferguson
Take a minute to carefully examine the photo above. Can you hear the sound? Can you see the lights? Can you feel the energy? Do you remember when?
As Pearl Jam fans, most of us can recognize the year and the tour captured in this photo. How can we forget the incredible set design created by the band's Lighting Director, Kille Knobel, and her design partner Lloyd "Spike" Brant?
The dangling stage lights allowed Ed to jump on and take a ride – to swing to and fro, like a pendulum – as he interacted with the audience during "Porch," "Alive," and "Even Flow."
Whether this 2013 tour was the last one you witnessed, or your last show was in 2018, the magic of live music remains ever-present in our hearts and minds.
The lights. The sound. The set. The music. The friends.
We desperately miss the moments when the camaraderie of those surrounding us made us all feel a little less alone, like we all belonged to something bigger – something greater. But we aren't the only ones who miss the shows; there is a crew of techs and engineers who miss the lights and sound of concerts even more than we do. They miss their jobs. They miss doing what they do best.
And it's not just Pearl Jam's crew that is out of work right now, crew members everywhere are struggling during this pandemic.
Some cannot find work. Unemployment checks are barely covering expenses. And many freelance techs and engineers are not receiving the support they need from the government.
Christmas will not be the same for many of us, but it will be particularly difficult for the techs and engineers who create the magic behind the stage so that our live music experiences are memorable.
Bring a smile to someone's face, and join us at the Wishlist Foundation as we reach out to help ALL of our friends in the live entertainment industry this holiday season.
Thank you to all who have contributed to the SoundGirls Awareness Project in various ways. Thank you, especially, to those who have already helped to fill Amazon and Target wish lists for techs and engineers in need.
If you have the means, please consider helping these twelve techs below who have not yet received items on their lists. Some just need grocery gift cards. Some would love help with gift cards so that they can purchase books to go back to school. Some need help purchasing items for their children. The link to ALL wish lists is also included below just in case you are overcome with the spirit of giving this holiday season.
Please know that your help is bringing an incredible amount of joy to others. If you click on the links below today and have Amazon Prime, you just might be able to bring joy to someone in need by Christmas.
Angelique *Specifically in need of gift cards to purchase books for school
Ana *Specifically in need of groceries (Amazon fresh gift cards)
Charlotte Mai *Specifically in need of gift cards to purchase books so that she can go back to school
List of ALL wish lists: #1, #2, #3, #4
Featured photo credit: Cory Schwartz (@cschwa17)