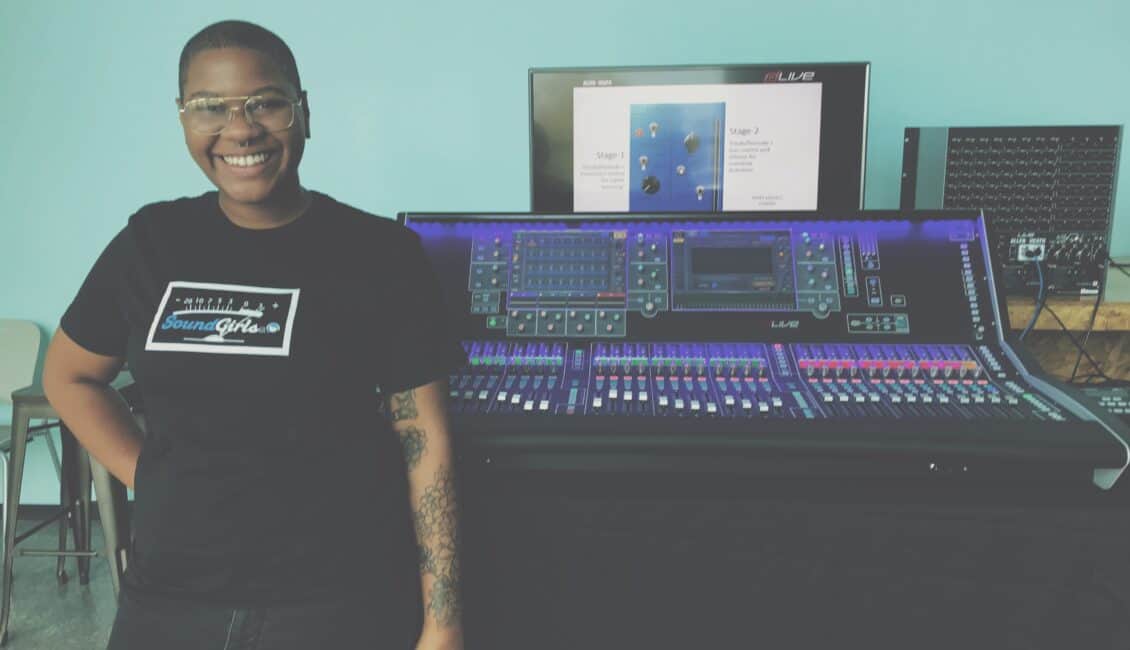 By Chrissie Ferguson
From the moment the sound of music enters our ears, it penetrates our soul – transforming the reality of life into a world where worry, pain, and sorrow do not exist. Like an elixir, music heals – or at least helps us to cope – as it touches us physically, emotionally, and sometimes even spiritually.
Those who have the ability to share this magic with the world through voice or instruments are blessed. And those who understand the science behind the creation of their music are doubly blessed.
It is this perfect marriage of a passion for both music and science that Alyasia M. Turner discovered her calling to become a sound engineer.
Turner's journey with sound began at a young age.
"I saw this Suzuki music poster for violin lessons and began taking lessons when I was 8," Turner says. "I was doing violin for a while, and then I wanted to switch over to flute."
Turner played flute throughout elementary and middle school and was in the marching band in high school. It was during these teenage years that Turner received the opportunity of a lifetime.
"I was awarded a scholarship to go to Berklee College of Music in Boston, Massachusetts," says Turner. "I was in high school doing Berklee classes and was 16 or 17. I would commute to Berklee at 7:30 every single morning just to play with them. I had jam classes and music theory."
Turner earned college credits in Contemporary Music through the Berklee City Music program, which was founded over 25 years ago by Berklee College of Music.
According to the organization's website, Berklee City Music enables youth from underserved communities to develop musically, academically, socially, and emotionally, primarily through the study of contemporary music and the performing arts.
While Turner thought about attending Berklee College of Music upon her high school graduation, she realized that music was speaking to her in a different way.
"I loved physics. I loved the study of sound," explains Turner. "I saw that there was a Science behind this all and was like, 'Wow, this is me. This is it.' I immediately looked up engineering schools in the United States, and Full Sail University in Winter Park, Florida was number one." 
Full Sail University degree programs are designed for students interested in entertainment, media, arts, and technology. And with the real-world industry experience that the University provides, Turner pushed herself to quickly earn a BS in Recording Arts.
"I completed a four-year program in two years and didn't have any breaks," Turner says. "It was definitely hard. It definitely pushed me. I'm glad that I finished."
Upon graduation from Full Sail, Turner moved to Atlanta, Georgia. She interned at a studio for a short time and then gigged for CrewOne Production where she was the stagehand for live entertainment events, including concerts and corporate.
Prior to the pandemic, Turner began working as Lead Audio Technician for Nuvo Dance Convention Tour. Her daily tasks included leading stagehands, assisting with Load-in and Load-Out, setting up PA Systems, rigging audio, and mixing music and speech.
"We were running competitions at hotels and convention centers," Turner says. "It was all day. More than 14-hour to 15-hour days. It was non-stop. I got that job in January and then March hit."
As a freelance sound engineer and musician, life has not been easy for Turner.
"It's been hard. I haven't worked a gig all year," Turner sighs. "And I probably won't work one until next year or the year after that."
Turner continues to look for the silver lining, however.
"I'm lucky that I've picked up work as a secretary at an appliance center," says Turner. "And I'm thankful that I'm able to stay here in Atlanta."
Turner also spends time sharing this positive light and her musical talent with children.
"I started freelance teaching at a music school here last summer while I was picking up freelance concert work here in Atlanta," Turner beams. "I really love seeing the enlightenment in children and watching them learn something while having fun."
Involved with SoundGirls since 2017, Turner – the head of SoundGirls' Atlanta Chapter – is thrilled to continue her work with the organization. "I love SoundGirls because that's what we all want to do is to inspire and to help more women come into our field," exclaims Turner.
While Turner volunteers much of her time in order to inspire others who love music, she also vows to use this time to focus on herself.
"It's a great time to learn more about my skills and my craft," concludes Turner. "I might as well learn more about my field. And it's a good time to learn a lot about myself, too."
If you would like to support Alyasia and other techs and engineers who are in great need this season, please consider clicking here to purchase an item or two from their personal Amazon or Target wish lists.