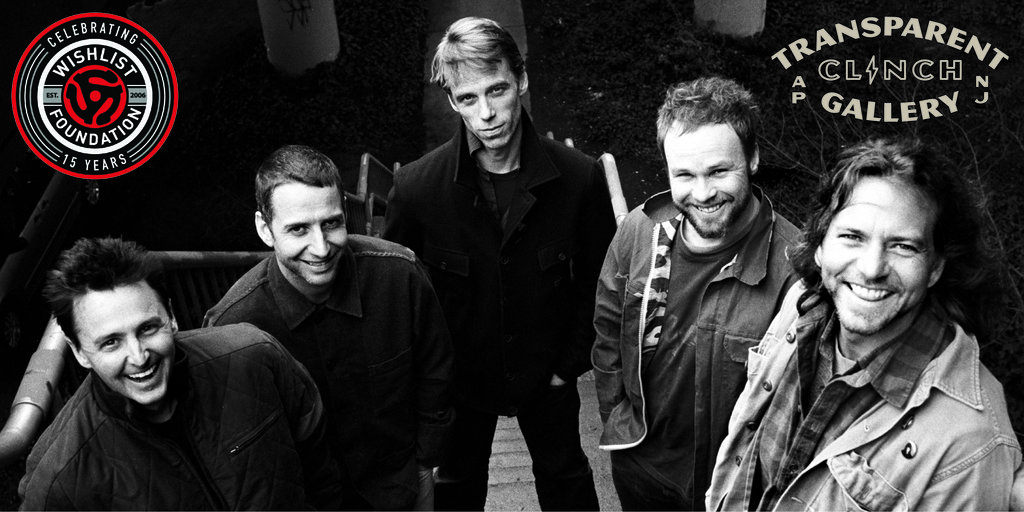 Join us at the Transparent Clinch Gallery in Asbury Park, NJ on Wednesday, September 15th as we commemorate 15 years of the Wishlist Foundation!
The Transparent Clinch Gallery is an immersive art gallery located in Asbury Park, New Jersey that showcases iconic images captured by photographer Danny Clinch. Also featured in the Gallery are Danny Clinch books and t-shirts alongside LV&TK furniture and vinyl records. Browse this immersive art gallery and Danny's incredible iconic photos as well as have access to a specially curated Pearl Jam print sale.
Danny Clinch Photography and the Transparent Clinch Gallery are generously donating 10% of all Pearl Jam print sales, (online at dannyclinch.com and in-person at the Gallery), all day on September 15, 2021. Additionally, all proceeds from ticket sales will be donated to the Wishlist Foundation.
Wishlist Foundation is a Pearl Jam fan-run grassroots 501(c)(3) nonprofit organization inspired by, and dedicated to, supporting Pearl Jam's charitable and philanthropic efforts.
Since its inception in 2004, Wishlist Foundation has raised over 1.5 million dollars for charitable organizations in the arenas of health and chronic illness, environmental causes, arts and education and social change.
Due to Covid-19, capacity inside the gallery is strictly limited so grab your ticket and celebrate with us as we salute the work of the Wishlist Foundation and Danny Clinch – and get psyched to welcome Pearl Jam to Asbury Park for their first appearance since 2018!
Tickets: https://bit.ly/wl15tix
$50 ticket price includes a special Wishlist Foundation goodie bag and t-shirt.
Facebook Event Page: https://bit.ly/wishlist15party
Masks are 100% mandatory, regardless of vaccination status.
Professional recording of any kind is not allowed without authorization.
Wishlist Foundation is a fan-run 501(c)3 registered Illinois nonprofit corporation and is not affiliated with Pearl Jam, Ten Club LLC, Vitalogy Foundation, its management or any of its related entities. Tax ID # 20­5497732.