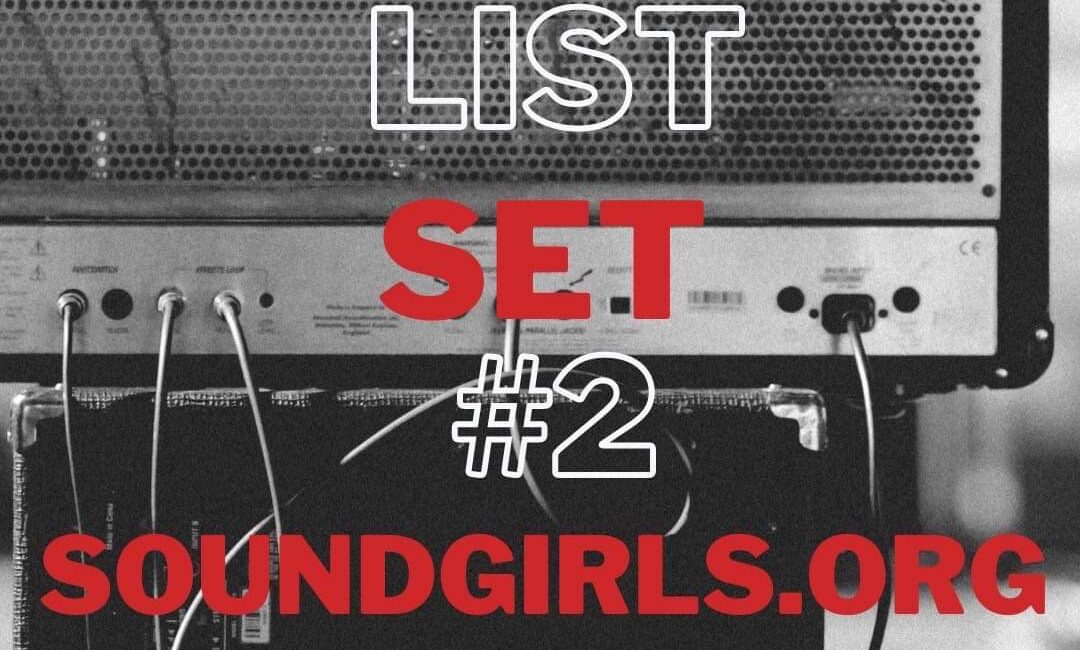 Pearl Jam community, we are all a part of the "tree of sound." The techs and engineers provide the light and the rain – the behind-the-scenes magic in the live music industry. And with their help and their talent, the tree thrives…all live music thrives.
When the tree thrives, it produces oxygen. And that oxygen—that music—keeps us all alive. Without the sound and the light, the tree does not truly live, and let's face it – neither do we. Therefore, our support for techs and engineers in the live music industry must continue.
Below is "Set 2" of the wish lists that we hope to fill through "Phase Two" of the "Speed of Sound: SoundGirls Awareness Project." Please simply click on a name below to help fill a wish list for a tech or engineer in need. You can purchase one item or a few. Every little bit helps. Thank you all so much for your continued support.
Dania H Sanchez from Groves, Texas
I am a Sound Engineer, Music Teacher and Commercial Music Performer from Groves, Texas currently pursuing a degree from Berklee College of Music Online and Lamar State College Port Arthur. I also volunteer by teaching bilingual music lessons in my community to children and adults. My community and field of work has not only been impacted by the pandemic, but also by Hurricane Laura here in Southeast Texas and Lake Charles Louisiana. Your help would be greatly appreciated.
Ana Hymson from Austin, Texas
My name is Ana Hymson and I'm an audio engineer living in Austin, Texas. I'm a FOH and monitor engineer for live music and theatre events.
Sarah Kompare from Austin, Texas
I attended a live sound engineering school in Nashville and graduated in March 2020. Two weeks prior to graduation, I had two separate job interviews and was very excited to be finally jumping into my chosen profession. Then the pandemic hit and my interviews canceled, stimulus checks went out. But I didn't qualify because I hadn't been employed prior to the pandemic. Since that time, I have relentlessly looked for work where I could apply some of my education and have found a job in AV installations. The new employer requires me to provide my own tools which will exceed 1000 dollars. Thank you for your support!
Jennifer Jung from Woodway, Texas
I have been doing live sound for 17 years. I have a live sound certificate and a music business degree. I mainly run sound for local music scene and church.
Aubrey Caudill from Dallas, Texas
My name is Aubrey, and I live in Dallas Texas. I've been running sound since 1998. I started when I was 17 in Williamsburg, Virginia. Last year I toured with a large vocal jazz assemble (3 years with them), I ran monitors for a gospel church (5.5 years there), I ran monitors for a 26 person local band (1 year), I worked at 3 local venues. I kept extremely busy. I have two sons and I am divorced. One of my sons developed some health issues at the end of last year that put a financial stress that the pandemic has not helped. I currently repair electronics related to the production industry and try to keep a positive energy to everything I'm doing. We are all in this together. Thank you!
Raquel Perez from Houston, Texas
I helped run sound as an engineer, front of house. I also ran small groups at small venues – lots of rock and roll. I'm a mom of 7 who worked my way up, and I'm 4 classes from my AAS in audio.
Angelique Mark from Denver, Colorado
I've worked on the road for over 20 years as a Production Coordinator. I look after the crew on a tour, like a crew mom, in a way. I organize all their travel, work visas, hotels, and food. I also sort day-off activities and I'm there to provide a shoulder to cry on, as a big part of my job is to help the crew cope with being away from home for months at a time.
James Ridling from St. Louis, Missouri
I have been fortunate enough to be an audio engineer and occasional backline technician both on tour and locally for 10 years. It has been the most rewarding career imaginable and I cannot wait for the chance to do another show.
Tiffany Hendren from St. Louis, Missouri
I'm a freelance tour manager and touring audio engineer, and am the house audio person at two venues in St. Louis, Missouri. I'm also on the board of directors at SoundGirls.org.
Savier Knox from Kansas City, Missouri
Start-up indie record label. Engineering, recording, promotion, and management to artists starting out in the music industry.
Kelly C Hunziker from St. Louis, Missouri
Audio Engineer based in the Middle West. My favorite Pearl Jam guitar solo is in "Yellow Ledbetter."
Angela Dirks from St. Louis, Missouri
I have been working in the music industry for the last 14 years at The Pageant in St. Louis, Missouri. I was most recently hired as the Production Manager of The Pageant's other venue, Delmar Hall, where I have held this position since its opening in September of 2016.